Although not without its challenges, medical technology company Bentley has had an extremely successful 2021. As in previous years, Bentley's management and staff are equally keen to donate part of what they have earned together to a good cause.
CEO Sebastian Büchert kicked off this year's fundraising campaign at the start of December in a hybrid information session for all Bentley employees. Büchert looked back on a second year in a row that had to be managed under more difficult conditions than usually, and expressed his thanks and respect to all employees for the way they had all worked together to keep Bentley on the path to success. A 25 percent increase in sales and the corresponding increase in profitability have allowed the company to pay out the highest employee bonus to date: a €4,250 bonus per person will be transferred along with the December salary.
"We all worked together to pull through," Büchert said. "But we should not forget that having job security is anything but a given, especially during the pandemic. There are a lot of people much worse off than we are." And it's with this spirit that he called on all employees to participate in the fundraising campaign. This followed the same pattern as last year: overtime, days of holiday and monetary donations could be made on a voluntary basis. Each donated overtime hour was translated into €20 each, and for each full day of holiday €160 was donated. The sum of the donations, including the cash donations, was then doubled again by Bentley. 147 of the current 217 Bentley employees participated in this year's campaign, donating a total of 823.5 hours of overtime, 567.8 hours of leave (which is equivalent to approximately 71 leave days) and €6,084 in cash, which ended up in a total of €67,821.20.
The recipient of the donations is once again the Förderverein für krebskranke Kinder Tübingen e.V., whose chairman Anton Hofmann was a guest at the pre-Christmas Bentley staff meeting this Wednesday (15 December) to receive the donation cheque. When handing over the cheque, Bentley CEO Sebastian Büchert said: "I am touched by the commitment and compassion of our employees. Once again, they have proven that they have a big heart for children and their families who are in a very difficult situation."
Anton Hofmann expressed his sincere thanks and was overwhelmed by "how much Bentley and its employees have already done for us and our important work for children suffering from cancer". The entire company displays "a great attitude" and has been supporting the Förderverein für krebskranke Kinder e.V. in an extraordinary way for years.
As Hofmann explained, the donations will be used for three permanent projects of the sponsoring association: the survivor consultation, in which children and adolescents recovering from cancer receive competent specialist medical help with late health effects even as adults; the project "Sports with Cancer", which helps children during the illness and in the recovery phase to gain a new body awareness and new-found self-confidence; and the "Back to a New Life with Mental Strength" programme, which prepares children for embracing life after cancer.
The Bentley employees are convinced that their donations will be used in the right place.
Contact: Kerstin Stotz, Communication & Event Coordinator, +49 7471 984 995 59, k.stotz@bentley.global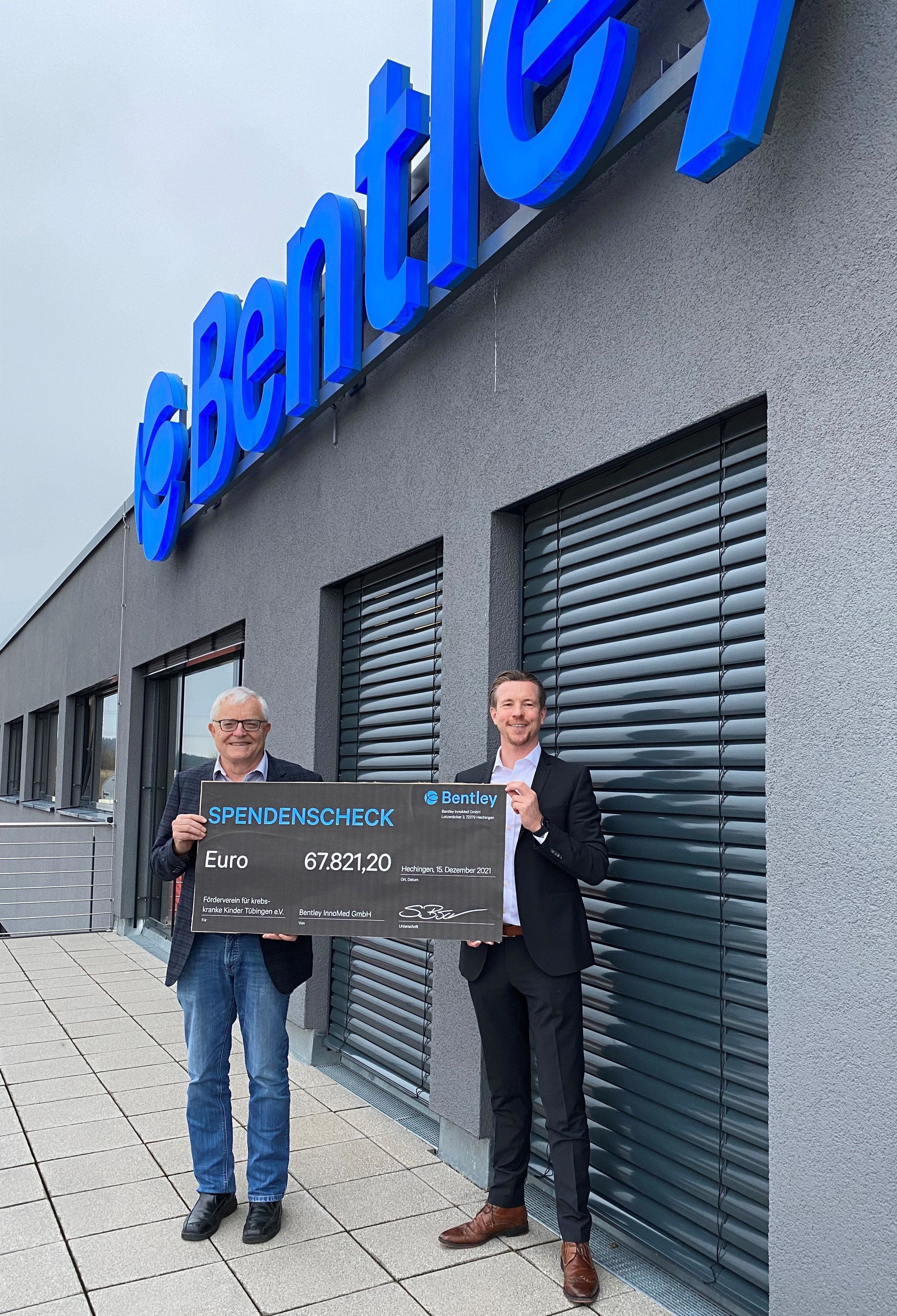 Mr. Büchert (left) presents the donation cheque to Mr. Hofmann (right)