Hechingen, January 2023 – Bentley, a global leader in the endovascular treatment for aortic and peripheral vascular disease, announces the launch of the BeBack crossing catheter designed for the treatment of heavily calcified lesions.
With the acquisition of the GoBack catheter in September 2022, Bentley marks a milestone in its young existence. Launched by Upstream Peripheral Technologies (Caesarea, Israel) in 2019, the device was available in 23 countries. Since the acquisition, the company managed to "re-brand" GoBack to BeBack, making sure that the device can benefit from the corporate branding and product synergies. It is Bentley's intention to extend the global availability by its partner network to those countries that the company is already active in with its current product portfolio.
"Steering through Chronic Total Occlusions (CTO) is often the most challenging part when treating heavily calcified lesions," said Martijn Nugteren – Director Sales & Marketing. "With the BeBack crossing catheter the physician has a great tool in hand to access and cross lesions to save limbs and reduce the number of amputations, thanks to the unique benefits of the device".
The BeBack crossing catheter is available in an 80 and 120 cm catheter in both a 2.9 F and 4 F size. The device makes use of a steerable and in length adjustable Nitinol needle, which can be used for crossing and targeted re-entry purposes. A radiopaque marker indicates the direction in which the curved needle protrudes from the tip of the catheter. Multiple treatment options like antegrade, retrograde and crossover are possible with the BeBack crossing catheter for intraluminal and subintimal approaches of stenotic or occluded lesions.
The BeBack is CE marked and FDA cleared for commercial purposes.
Contact: Matthias Bleesen, Communication & Event Coordinator, m.bleesen@bentley.global, +49 7471 984 995 631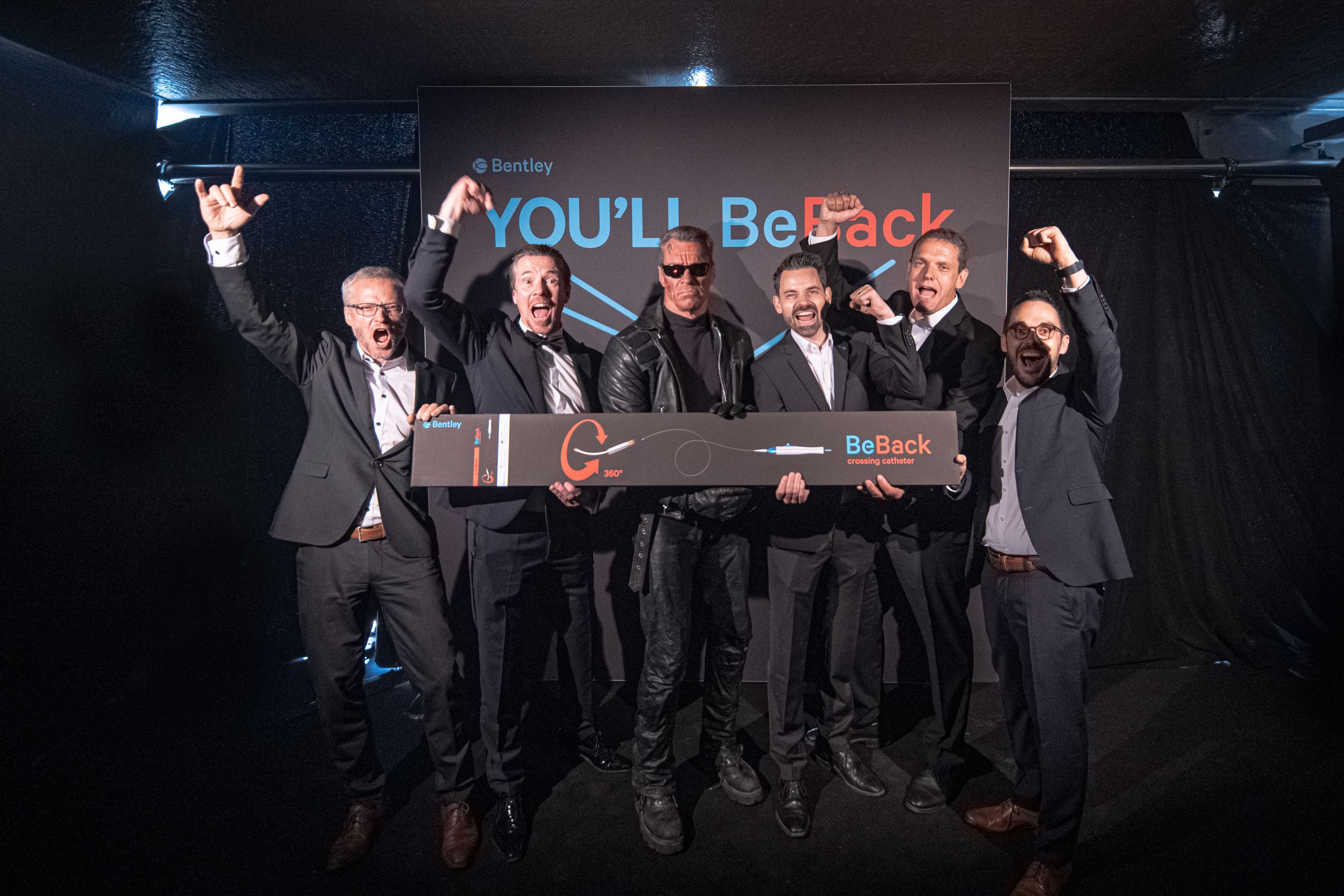 From left to right: Rainer Bregulla (Director R & D), Sebastian Büchert (CEO), Thomas Morawek (Arnold Schwarzenegger Impersonator), Hartmut Grathwohl (Director Operations), Andrew Brabner (Director Finance & IT), Christian Bader (Director Quality & Market Access)